Professional Bar Shaker Mat, 1 Piece Black 6" x 12" 
---
Sturdy and Environmental Mat for Kitchens, Bars, Coffee Shops, Restaurants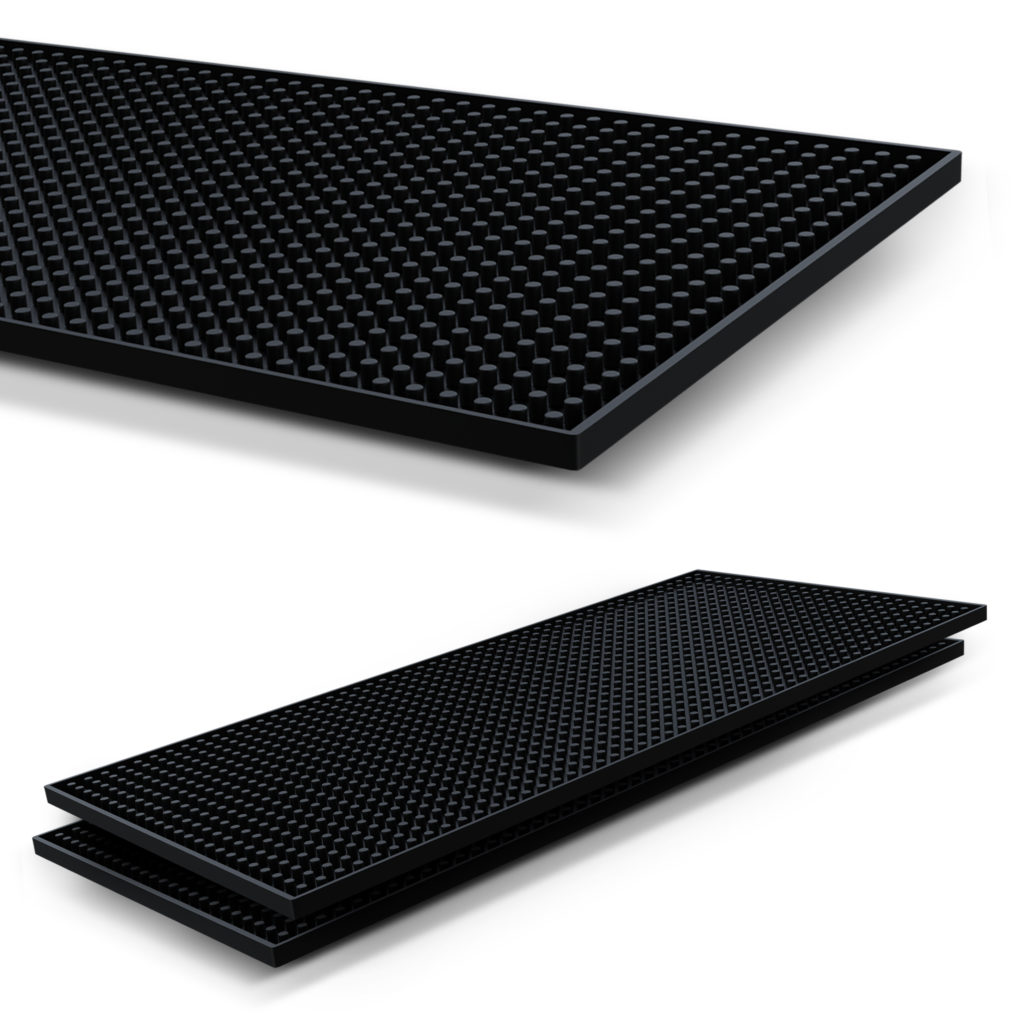 PROTECT YOUR BAR TOP

Protect your bar top from wet shakers by creating a nice dry landing space for your shakers.

A GOOD FIT

Coming in at just 6" x 12", our shaker mat is a good fit for any space. It can fit in even the most compact spaces. Fit two or more together at your bar top for a more convenient and spacious dry landing place.

ENVIRONMENTALLY FRIENDLY

Our shaker mats are made of thermoplastic elastomer (TPE), a healthy and environmentally friendly alternative to rubber.

PROTECT FROM SPILLS

Spills are inevitable. It is best to be prepared and protect your bar countertops from any spills from your shakers. Keep the spills on our shaker mats and save precious time and effort from cleaning up floors.

DURABLE AND STYLISH

These shaker mats boast durability and shape retention that ensures it returns to the way you bought it. The black color makes it a good fit for any and all bar designs.
---
---
Product Description
---
Imagine it is just another day working at your bar. You have your cocktail shaker in hand as you mix the drinks of your customers. After serving the drink, you place a wet shaker on the counter. It is a normal day at the office.
However, as time goes by, you notice your bar's counter top withering away. It isn't a good look for your bar and your investment is damaged. You recall that it is the spot where wet shakers are placed on the countertop.
This is just one thing that our professional shaker mat can help with. You owe it to yourself and to your customers to keep your bar and countertops in tip top shape. Protect your bar's countertops by creating a dry landing space for the moisture from your used shakers.
At just 6" x 12", you can easily fit our shaker mats anywhere on your bar's countertop. It is an ideal fit for even the most compact spaces. If you would like to create a bigger dry landing space, you can pair two or more of our shaker mats together easily and conveniently.
Apart from shaker moisture, these shaker mats can also help catch spills from a variety of drinks and liquids. Keep the spills off the floor and save on precious time, resources, and efforts. The simple cleaning of spills on these shaker mats beats cleaning floors any day.
Instead of rubber, our shaker mats were created using thermoplastic elastomers (TPE). It is a biodegradable and non-toxic material. This means it is safe for the environment, as well as for people.
TPE gives our shaker mats a durable quality. Apart from that, you can rest assured that the shape of our shaker mats will remain as is. Both of these qualities ensure that you can use our shaker mats for years to come.
Finally, our shaker mat's black color means that it is an easy fit for any bar style. As the saying goes, black goes with everything. It never goes out of style.