Set of 8 Bar Coasters with Holder
---
4 ¼ – 11 Centimeters in Diameter for Keeping Tables Dry, Black, Professional Bar Supplies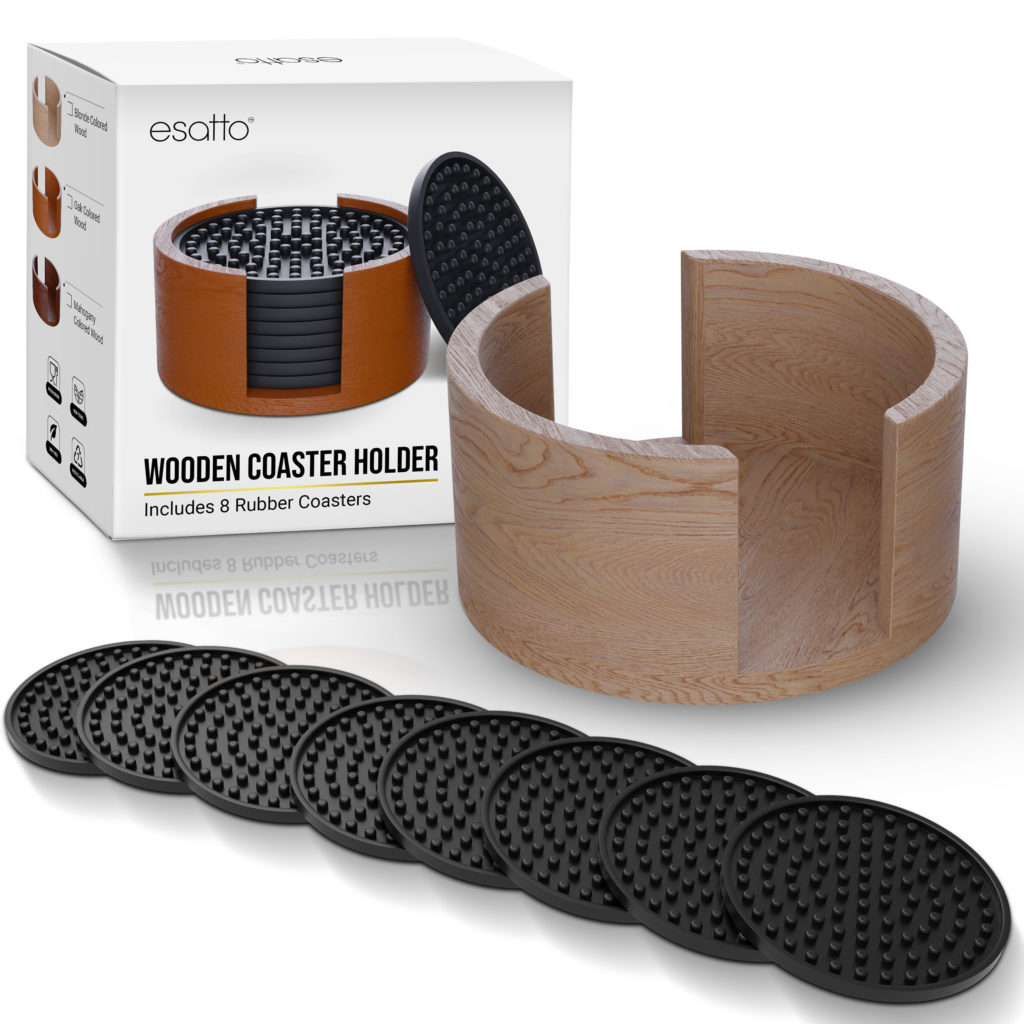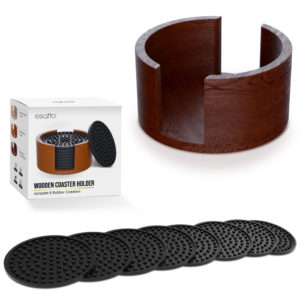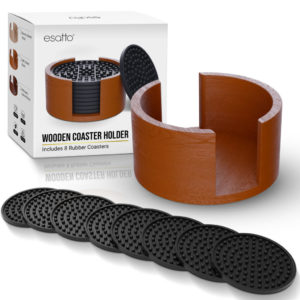 KEEP TABLES DRY AND PRESENTABLE

This set of coasters will help keep any and all of your tables and countertops dry. Say goodbye to all wet spots and hello to a dry and presentable bar surface.

CONDENSATION CATCHER

These coasters were engineered with condensation in mind. The rounded nipples ensure that condensation is all caught within the coaster and not stuck at the bottom of the bottle or glass.

SET OF 8

Purchase a set of these coasters for multiple tables and bar surfaces.

ENVIRONMENTALLY FRIENDLY

Our coasters are made from a healthy and environmentally friendly alternative to rubber and plastic, thermoplastic elastomer (TPE).

DURABLE AND STYLISH

Each coaster is durable enough to last for long uses. Even if folded, they will return to their natural shape. The black color also ensures that it will be a good fit for any and all bar designs.
---
---
Product Description
---
Coasters are a great must have for all bars, kitchens, restaurants, and even for home use. For starters, they are a great way to maintain a dry countertop or table surface. Condensation can stain, discolor, and damage your furniture and tables.
Esatto's set of coasters were created with condensation in mind. The rounded nipples in each of our coasters help to ensure that all the condensation goes in the coaster and doesn't land on your tables or countertops. We can ensure that the condensation does not stick to the bottom of the glass or bottle.
Keeping a dry bar area will also help in maintaining a respectable and presentable surface.
Purchase this set of 8 bar coasters now. Always make sure that you have enough bar coasters for the multiple tables and customers that you will have in your bar or restaurant. These are also ideal for your home bar or when you are throwing a party or get together at home.
Each and everyone of these coasters was created with environmentally sound practices. Like all our mat products at Esatto, we do not use plastic or rubber. Instead, we created our products with thermoplastic elastomer (TPE).
This is a healthy alternative to other materials. It is toxic free, biodegradable, and healthy for people and the environment. Using TPE was our decision to do away with practices that could lead to deforestation.
The TPE material gives each coaster in our set a durable quality that will last you many years. They also have a retaining quality. Even if the coaster is bent or folded, it will always return to its original shape.
Finally, the black color of our coasters was willfully picked. Black is a color that will never go out of style. No matter what style, theme, or motif your bar has, Esatto's coaster set will blend in smoothly and look good doing it.