Standard Size Professional Bar Mat
---
3½" x 24" 1 Piece Black for Catching Spills on Countertops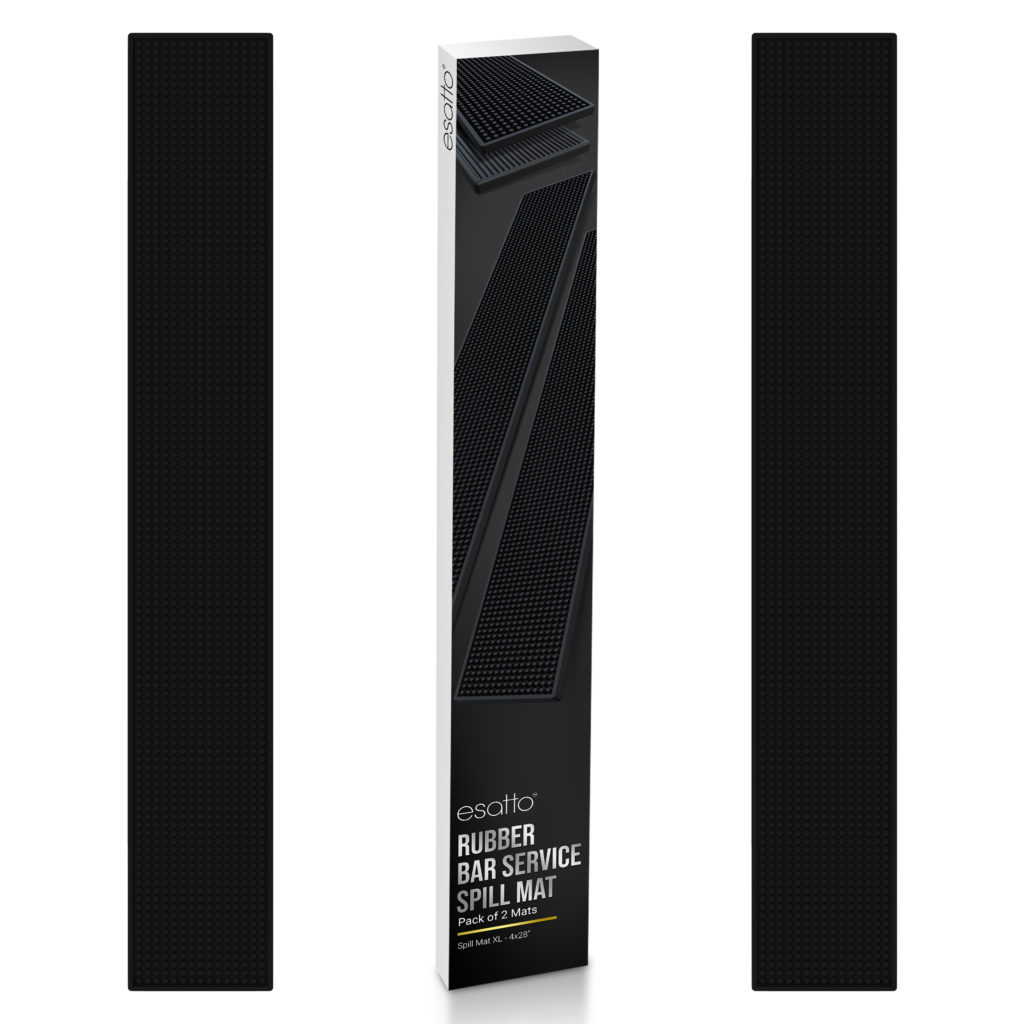 A STANDARD AND FAVORITE

Our standard sized professional bar mat is a favorite choice by any and all bars. It is also a great choice for home bars, restaurants, and kitchens.

BAR TOP PROTECTION

Protect your bar top from moisture, drinks, and spills by making a dry and safe space with our bar mats. These mats are also great anti-slip surfaces, ensuring that your glasses get a good grip.

KEEP SPILLS SECURE

Keep your spills secure on our bar mat. This allows you to easily keep your bar clean. You also save valuable time by keeping the spills on the bar mat and not needing to tirelessly clean the floor.

ENVIRONMENTALLY FRIENDLY

Our shaker mats are made of thermoplastic elastomer (TPE), a healthy and environmentally friendly alternative to rubber.

DURABLE AND STYLISH

These shaker mats boast durability and shape retention that ensures it returns to the way you bought it. The black color ensures that it fits any and all bar designs.
---
---
Product Description
---
Every professional bar needs bar mats. There are many types of bar mats being made right now. You have the choice of different sizes, shapes, and even colors. However, just like style, you can't beat the classic standard sized professional bar mat.
Esatto's bar mat comes in at the standard size of 3½" x 24" or 9 x 61 Centimeters. It is the favoured and most popular sized mats that are loved great for all bars and bartenders. These bar mats are not only good for bars, but also for kitchens, nightclubs, restaurants, and many other locations.
Keep these handy bar mats on deck and protect your countertops from any and all spills that could occur. Keeping your bar's countertop dry is as good as keeping your bar investment operating at a high level for years to come.
If (and when) a spill happens, you'll be thankful for keeping on the bar mat as opposed to on the floor. It is much easier to clean up a bar mat than spend precious time and resources cleaning the floor. All you need to do is rinse the bar mat and clean it with soap.
Apart from that, these bar mats will actually help you keep your glasses from slipping and spilling any drinks. The grip these bar mats afford keep your glasses upright and on the countertop.
With an anti-slip surface, you can relax a little when you lay a glass down while you do other tasks that need your attention.
Like all our mats, these bar mats are made with thermoplastic elastomers (TPE). Instead of PVC or rubber, TPE is a safe, toxic-free, and biodegradable alternative that is safe for the environment and to the people around.
Our TPE-made bar mats enjoy a durability that will have you using it for years. It also has a retaining quality that allows the bar mat to keep its shape no matter what.
Purchasing our single piece black professional bar mat for any and all bar types, themes, and motifs. The black color means that it always matches any styles you have in your bar.